Kanata North Family Chiropractic Centre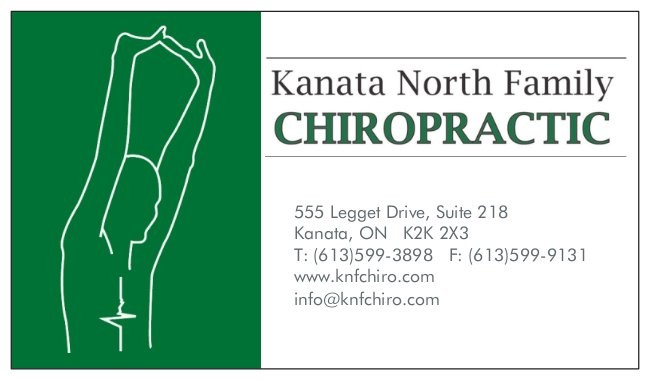 Address
555 Legget Drive, Suite 218
Kanata, Ontario, Canada
K2K 2X3
Contact
Phone:
613-599-3898
Email:
info@knfchiro.com
Website:
knfchiro.com
Facebook:
www.facebook.com/knfchiro
Kanata North Family Chiropractic Centre is a chiropractic health centre that offers a natural, holistic approach to health care for the whole family

Dr. Laurie Spratt and her team of dedicated health professionals at Kanata North Family Chiropractic have been treating patients in Kanata and the Ottawa area for over 20 years. We believe that optimal health can be achieved and enjoyed by all. Our health care team is here to provide you with a drug-free option in your quest to optimize your health potential. Fast pain relief is essential, that's a given. However, that's just not enough. We would like you to enjoy optimal health. Call now to take advantage of our many services:

Family Chiropractic Care
Therapeutic Massage
Pregnancy & Pediatric Care
Active Release Technique
Custom Fit Orthotics
Therapeutic Laser Treatment
Naturopath

Relief from:

Migraines & headaches
Low back & neck pain
Sports/repetitive strain injuries
Tension & stress
Please log-in or create an account.